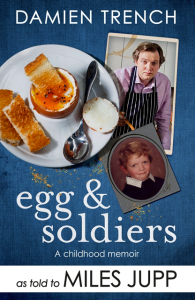 Miles' new book is now out. Egg And Soldiers is the fictional childhood memoir of Miles' cookery writer creation Damien Trench from the series In And Out Of The Kitchen. It details his baffling and often excruciating upbringing in North West London and includes recipes, anecdotes, some wildly tangential opinions about the state of the nation as well as multiple references to panic attacks and the digestive system. You can order it here. Or you might conceivably prefer to order it from here.
—–
Miles is playing the role of Percy Cahill in Kenneth Lonergan's adaptation of Howards End currently showing on BBC1. The series is directed by Hettie MacDonald and stars Hayley Attwell and Matthew Macfadyen. You can watch it here.
—–
Miles appears as William Makepeace Thackeray in The Man Who Invented Christmas, which is out in cinemas on 1st December. The film tells the story of Charles Dickens' struggle to write A Christmas Carol and  is directed by Bahrat Nalluri, written by Susan Coyne (from Les Standiford's book) and stars Dan Stevens, Christopher Plummer and Justin Edwards.
—–
Miles and David Stenhouse have just made another of their radio documentaries. In The Trainspotter's Guide to Dracula Miles attempts to recreate Jonathan Harker's train journey across Transylvania from Budapest to the presumed site of Castle Dracula in Bram Stoker's novel. You may listen here.
—–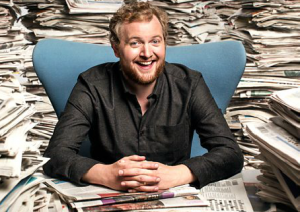 The News Quiz is now off air until the new year, but Miles also presented a documentary to celebrate forty years of the show, which you could listen to here.
—–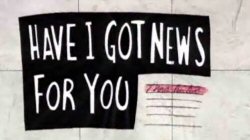 Miles recently made his ninth appearance on Have I Got News For You. This much discussed episode features the excellent Jo Brand in the chair. You may watch it for yourself here. Or here is the longer version. Miles was also recently a guest on Mock The Week, which you could watch here.
—–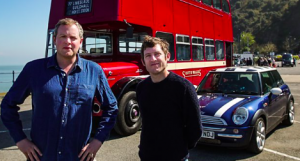 Miles and his friend Elis James have been travelling around Wales recently for a new series for BBC2 Wales. You can watch all available episodes of James And Jupp here.
—–
Comedy show Bad Move has just finished its run on ITV. The show was written by Jack Dee and Pete Sinclair and stars Jack alongside Kerry Godliman, Manjinder Virk, Miles, Seann Walsh, Sue Vincent, Thelma Ruby and Philip Jackson.  All available episodes are here.
—–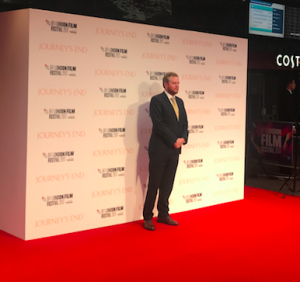 Journey's End, in which Miles plays Capt. Hardy, had its London premiere last month as part of the London International Film Festival. it will be released in February 2018.
—–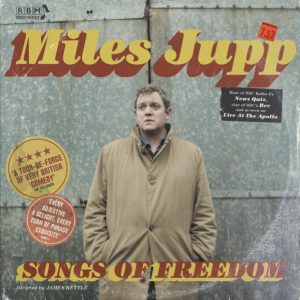 Miles' stand-up show Songs Of Freedom was filmed at Leeds City Varieties and will soon be available to purchase as a download or DVD.
—–
Miles' 2014 stand up show  - Miles Jupp Is The Chap You're Thinking Of – is now available as a DVD and instant download. You can buy either version right here. The show was toured all over the UK to big and delightful audiences and played in London's West End to rather lovely reviews.  This special version of the show was filmed in Margate at the beautiful Theatre Royal. And right here there's a clip. Hurrah.
—–
The short lived BBC4 television version of In And Out Of The Kitchen is now available to buy from the BBC online store. All evidence of this labour of love can now be purchased right here for just four pounds and ninety nine pence. You have to quick though as the BBC's online store is closing in November.
—–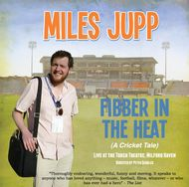 The DVD and the CD of the live show of Fibber In The Heat – Miles' tale about idiotically blagging his way into the press corp during an England cricket tour of India – have now been released by Go Faster Stripe. The show was originally performed at the Edinburgh Fringe Festival in 2010 where it received over 20 four star reviews, and Miles subsequently performed the show on two tours of the UK. You can buy it here.
Miles' book about the trip was shortlisted for both The William Hill Sports Book Of The Year and the MCC and Cricket Society Book Of The Year in 2012 and a second edition has now been released. You could buy that here. If you would like to.
—–