Miles' debut novel is to be released on 19th August. History tells the story of Clive Hapgood, a disillusioned teacher whose life at home and at work begin to unravel. You can read a little more about it, and indeed pre-order it, here.
On May 19th Miles will appear at the Bath Festival interviewing Richard Osman about his obscenely successful novel The Thursday Murder Club. Event information is here.
—–
Miles has recently filmed parts in Sex Education, for Netflix, Grantchester,for ITV, and the film The Silent Twins, directed by Agnieszka Smoczynska. He is currently filming SAS: Rogue Heroes for the BBC.
—–
For the past few months Miles has been recording a podcast about cricket with Ashes and World Cup winning England cricketer Mark Wood. A second series is currently underway. All episodes are available here. Guests so far have included David Gower, Elizabeth Ammon, Joe Buttler, Joe Hart, Merv Hughes, Jonny Bairstow and Joe Root.
—–
He has also recently appeared on episodes of Would I Lie To You? and Pointless Celebrities.
Miles was also be seen in Midsomer Murders in the episode With Baited Breath that was shown on ITV on March 28th playing the role of Cornelius Tetbury.
Series Three of Gary: Tank Commander, in which Miles plays Capt. Fanshaw, is currently available on iPlayer.
—–
Misbehaviour is now available to buy on digital download from iTunes, YouTube, Amazon Prime, Sky Store and more. The film was written by Rebecca Frayn and Gabby Chiappe and was directed by Philippa Lowthorpe. Miles plays a fellow called Clive.
All four radio series of In And Out Of The Kitchen are available to listen to on BBC Sounds.
—–
Season Three of The Durrells is now up on Netflix. Miles's character Basil appears in episodes three and eight.
—–
Miles' last stand-up show Songs Of Freedom was filmed at Leeds City Varieties  and is now available to purchase as a download or DVD from Go Faster Stripe.
—–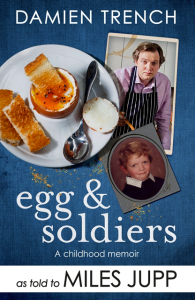 Miles' second book is out. Egg And Soldiers is the fictional childhood memoir of Miles' cookery writer creation Damien Trench from the series In And Out Of The Kitchen. It details his baffling and often excruciating upbringing in North West London and includes recipes, anecdotes, some wildly tangential opinions about the state of the nation as well as multiple references to panic attacks and the digestive system. You can order it here. Or you might conceivably prefer to order it from here.
—–
Miles' 2014 stand up show  – Miles Jupp Is The Chap You're Thinking Of – is available as a DVD and instant download. You can buy either version right here. The show was toured all over the UK to big and delightful audiences and played in London's West End to rather lovely reviews.  This special version of the show was filmed in Margate at the beautiful Theatre Royal. And right here there's a clip. Hurrah.
—–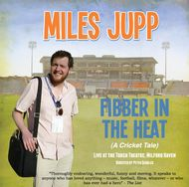 The DVD and the CD of the live show of Fibber In The Heat – Miles' tale about idiotically blagging his way into the press corp during an England cricket tour of India – have now been released by Go Faster Stripe. The show was originally performed at the Edinburgh Fringe Festival in 2010 where it received over 20 four star reviews, and Miles subsequently performed the show on two tours of the UK. You can buy it here.
Miles' book about the trip was shortlisted for both The William Hill Sports Book Of The Year and the MCC and Cricket Society Book Of The Year in 2012 and a second edition has now been released. You could buy that here. If you would like to.
—–