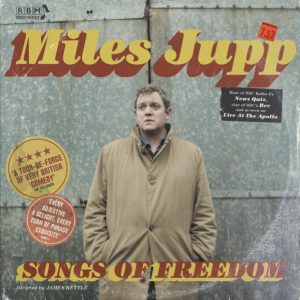 Miles is on tour, performing his new stand-up show Songs Of Freedom. It's going jolly nicely.  For tickets and dates click here. This week he plays St Albans, Margate and Bewdley.
—–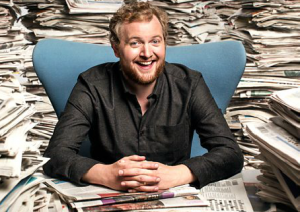 The News Quiz is back on air. All available episodes can be found here.  And you can listen to all available episodes of News Quiz Extra right bloody here.
—–
Last year Miles played a role of a slightly Scottish man in a Dutch feature shot in Holland and Scotland. Waterboys will be released in the Netherlands in December. Here is the trailer.
—–
Miles has recently recorded the role of Blackberry for the new BBC and Netflix television adaptation of Richard Adams' 1972 novel Watership Down. It's quite a cast. Over the summer he also filmed an episode of Father Brown for BBC1 and Josh for BBC3. He's also filmed episodes of Q.I. for BBC2, 8 out of 10 Cats Does Countdown for Channel 4, Bake Off: An Extra Slice for BBC2 and a Drunk History for Comedy Central.
—–
Miles' 2014 stand up show  - Miles Jupp Is The Chap You're Thinking Of – is now available as a DVD and instant download. You can buy either version right here. The show was toured all over the UK to big and delightful audiences and played in London's West End to rather lovely reviews.  This special version of the show was filmed in Margate at the beautiful Theatre Royal. And right here there's a clip. Hurrah.
—–
The short lived BBC4 television version of In And Out Of The Kitchen is now available to buy from the BBC online store. All evidence of this labour of love can now be purchased right here for just four pounds and ninety nine pence.
—–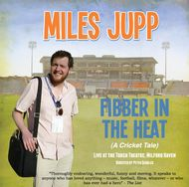 The DVD and the CD of the live show of Fibber In The Heat – Miles' tale about idiotically blagging his way into the press corp during an England cricket tour of India – have now been released by Go Faster Stripe. The show was originally performed at the Edinburgh Fringe Festival in 2010 where it received over 20 four star reviews, and Miles subsequently performed the show on two tours of the UK. You can buy it here.
Miles' book about the trip was shortlisted for both The William Hill Sports Book Of The Year and the MCC and Cricket Society Book Of The Year in 2012 and a second edition has now been released. You could buy that here. If you would like to.
—–
Lots of stuff Miles has done on BBC Radio 4 over the last few years is available to download (admittedly for a fee) from this place; episodes of The News Quiz, Just A Minute, I'm Sorry I Haven't A Clue and the like.