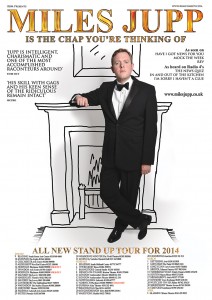 Miles has been on tour with a brand new stand up show for 2014 , entitled Miles Jupp Is The Chap You're Thinking Of. The first leg is very nearly over, BUT a second leg of the tour in May and June has now been announced, and dates, venues and ticket information are on this page.
—–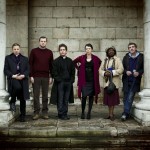 Rev. is back for a third series. Probably up  on iPlayer.
—–
The third series of In And Out Of The Kitchen on BBC Radio 4 finished in March, but a television version (3 episodes for BBC 4) is just about to start filming. It has the same cast as the radio series – Miles, Justin Edwards, Selina Cadell, Philip Fox, Lesley Vickerage and Brendan Dempsey and is to be directed by Mandie Fletcher.
—–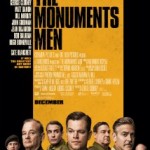 Miles has a small part in The Monuments Men playing the role of Major Fielding. It was release on 14th February.
He also has a role in Jon Stewart's directorial debut Rosewater. There is no current release date for this film.
And he's got a tiny role in Lone Scherfig's Posh - based on Laura Wade's stage play. This will not be released until 19th September, so it's hardly worth thinking about yet.
What is more he is in The Last Sparks Of Sundown, a British feature film written and directed by James Kibbey and starring Shenoah Allen and Mark Chavez, also known as The Pyjama Men. You can watch a trailer for it here. Miles plays Geoffrey Chicken…
—–
A second edition of Miles' book – shortlisted for both the William Hill Sports Book Of The Year and the MCC Cricket Society Book Of The Year – has been released. You could order it here if you felt that would be in any way appropriate.
—–
Lots of stuff Miles has done on BBC Radio 4 over the last few years is available to download (admittedly for a fee) from this place; episodes of The News Quiz, Just A Minute, I'm Sorry I Haven't A Clue and the like.