Miles is currently rehearsing for Neville's Island by Tim Firth. The play will start previewing from 10th October at The Duke Of York's Theatre in London. It is being directed by Angus Jackson, and Miles will be appearing alongside Adrian Edmondson, Neil Morrissey and Robert Webb. More details can be found here.
—–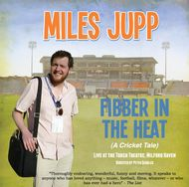 The DVD and the CD of the live show of Fibber In The Heat – Miles' tale about idiotically blagging his way into the press corp during an England cricket tour of India – have now been released by Go Faster Stripe. The show was originally performed at the Edinburgh Fringe Festival in 2010 where it received over 20 four star reviews, and Miles subsequently performed the show on two tours of the UK. You can buy it here.
Miles' book about the trip was shortlisted for both The William Hill Sports Book Of The Year and the MCC and Cricket Society Book Of The Year in 2012 and a second edition has now been released. You could buy that here. If you would like to.
—–
The first three series of BBC Radio 4′s In And Out Of The Kitchen has been released on CD. You can buy it here. A television version (3 episodes for BBC 4) will be shown this Autumn. It has the same cast as the radio series – Miles, Justin Edwards, Selina Cadell, Philip Fox, Lesley Vickerage and Brendan Dempsey – and is directed by Mandie Fletcher. A fourth series for the radio has also been commssioned. But not yet written.
—–
Miles filmed parts in 3 different films over July. So that's good. But he also has parts in a few upcoming movies that he filmed in 2013: Jon Stewart's directorial debut Rosewater (click here to see a Jupp-free trailer),  Lone Scherfig's The Riot Club – a film of the play Posh by Laura Wade – (click here to see another Jupp-free trailer) and also  The Last Sparks Of Sundown. Owing to some sort of oversight, Miles does feature in its trailer. Which is here.
—–
Miles recently a guest on The British Comedy Guide's podcast What Are You Laughing At? in which he is interviewed by the writer Dave Cohen. You may hear or download it right here.
A while ago Miles also appeared on Richard Herring's Leicester Square Theatre Podcast. For that he was interviewed by Richard Herring. In Leicester Square. In a theatre. You may download that right bloody here.
—–
Lots of stuff Miles has done on BBC Radio 4 over the last few years is available to download (admittedly for a fee) from this place; episodes of The News Quiz, Just A Minute, I'm Sorry I Haven't A Clue and the like.