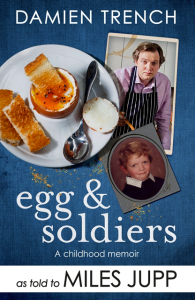 Miles' new book will be out on 7th September. Egg And Soldiers is the fictional childhood memoir of Miles' cookery writer creation Damien Trench from the series In And Out Of The Kitchen. It details his baffling and often excruciating upbringing in North West London and includes recipes, anecdotes, some wildly tangential opinions about the state of the nation as well as multiple references to panic attacks and the digestive system. You can pre-order it here.
—–
Miles has just appeared in a new BBC Radio 4 comedy drama, The Penny Dreadfuls Present: Le Carre on Spying. Miles plays a young David Cornwell in this mad romp through the world of espionage in 1960s Berlin. It was written by David Reed and also features his other old friends Thom Tuck, Humphrey Ker, David Reed, Mark Heap and Margaret Cabourn Smith. You may listen to it here.
—–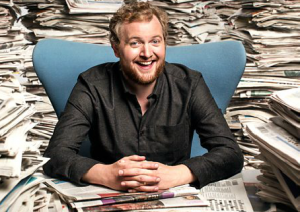 The News Quiz is now off air until September. You can still listen to some episodes of the last series – including the election episode - here.
—–
Miles has just completed filming a new comedy show for ITV. Bad Move is written by Jack Dee and Pete Sinclair and stars Jack alongside Kerry Godliman, Manjinder Virk, Miles, Seann Walsh, Sue Vincent, Thelma Ruby and Philip Jackson.
—–
Miles recently completed filming the role of Percy Cahill in Howards End, a new version of the E.M. Forster novel adapted by Kenneth Lonergan for the BBC and directed by Hettie Macdonald. He also has a part in another thing but can't talk about it yet. It's good though. And another thing.
—–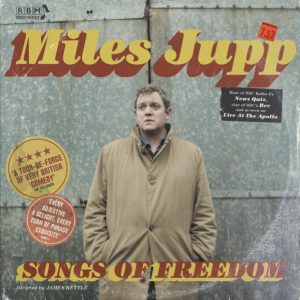 Miles has finished touring  his stand-up show Songs Of Freedom. A performance of the show was filmed at Leeds City Varieties and will soon be available to purchase as a download or DVD.
—–
Towards the end of last year Miles filmed roles in Journey's End (a new film version of R.C. Sherriff's play, adapted by Simon Reade and directed by Saul Dibb), The Man Who Invented Christmas (Susan Coyne's fim adaptation of Les Standiford's book, directed by Bharat Nalluri, Quacks (a new sitcom from James Wood what wrote Rev.), and the Outnumbered Christmas Special.
—–
Last year Miles signed a three book deal with Headline. The first book, Egg And Soldiers,  - the childhood memoir of Miles' cookery writer character Damien Trench – will be out in September. Amazingly, you can already pre-order it here.
—–
Miles has recently recorded the role of Blackberry for the new BBC and Netflix television adaptation of Richard Adams' 1972 novel Watership Down. It has quite a cast and will be shown at the end of the year.
—–
Miles' 2014 stand up show  - Miles Jupp Is The Chap You're Thinking Of – is now available as a DVD and instant download. You can buy either version right here. The show was toured all over the UK to big and delightful audiences and played in London's West End to rather lovely reviews.  This special version of the show was filmed in Margate at the beautiful Theatre Royal. And right here there's a clip. Hurrah.
—–
The short lived BBC4 television version of In And Out Of The Kitchen is now available to buy from the BBC online store. All evidence of this labour of love can now be purchased right here for just four pounds and ninety nine pence.
—–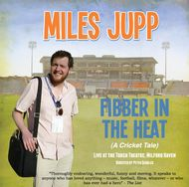 The DVD and the CD of the live show of Fibber In The Heat – Miles' tale about idiotically blagging his way into the press corp during an England cricket tour of India – have now been released by Go Faster Stripe. The show was originally performed at the Edinburgh Fringe Festival in 2010 where it received over 20 four star reviews, and Miles subsequently performed the show on two tours of the UK. You can buy it here.
Miles' book about the trip was shortlisted for both The William Hill Sports Book Of The Year and the MCC and Cricket Society Book Of The Year in 2012 and a second edition has now been released. You could buy that here. If you would like to.
—–