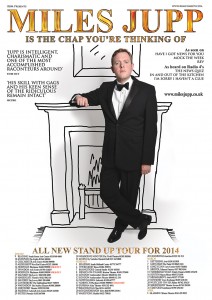 There are just a couple of dates left of Miles' 2014 tour, both in September. He is playing The Regent's Park Theatre on September 8th and the Southampton Nuffield on September 21st.
—-
The first three series of BBC Radio 4′s In And Out Of The Kitchen has been released on CD. You can buy it here. A television version (3 episodes for BBC 4) of the show is now in post-production. It has the same cast as the radio series – Miles, Justin Edwards, Selina Cadell, Philip Fox, Lesley Vickerage and Brendan Dempsey – and is directed by Mandie Fletcher.
—–
Miles has filmed parts in 3 different films over July. So that's good.
—–
Miles has recorded the stage show of Fibber In The Heat for a DVD, CD, audio download, video download, all that stuff etc. with the good people at Go Faster Stripe. You can buy the CD right here. And here it is on itunes. The other versions – with moving pictures – will be available soon, one hopes.
—–
Miles recently a guest on The British Comedy Guide's podcast What Are You Laughing At? in which he is interviewed by the writer Dave Cohen. You may hear or download it right here.
A while ago Miles also appeared on Richard Herring's Leicester Square Theatre Podcast. For that he was interviewed by Richard Herring. In Leicester Square. In a theatre. You may download that right bloody here.
—–
Miles has parts in a few upcoming movies that he filmed in 2013. Jon Stewart's directorial debut Rosewater and Lone Scherfig's The Riot Club (a film of the play Posh by Laura Wade) are both due out in the Autumn. He's also in The Last Sparks Of Sundown, which is still enjoying a lengthy period of post-production. You can see a trailer for it here.
—–
A second edition of Miles' book – shortlisted for both the William Hill Sports Book Of The Year and the MCC Cricket Society Book Of The Year – is now out. You could order it here if you felt that would be in any way appropriate.
—–
Lots of stuff Miles has done on BBC Radio 4 over the last few years is available to download (admittedly for a fee) from this place; episodes of The News Quiz, Just A Minute, I'm Sorry I Haven't A Clue and the like.