—–
Miles is currently appearing in a new play at the National Theatre. Rules For Living is by Sam Holcroft and is directed by Marianne Elliott. It also features Maggie Service, Deborah Findlay, John Rogan, Stephen Mangan, Claudie Blakley and Daisy Waterstone. Details, times and tickets can be found here.
—–
The television version of In And Out Of The Kitchen has now been shown on BBC4, and all the epioses are currently up on iPlayer right here.  It has the same cast as the radio series – Miles, Justin Edwards, Selina Cadell, Philip Fox, Lesley Vickerage and Brendan Dempsey plus a variety of other carefully selected actors  - and is directed by Mandie Fletcher. The radio series get repeated quite often and the details can be found here.
—–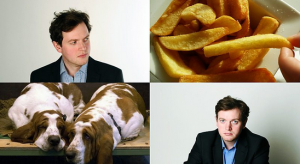 Miles  - who now barely resembles the man in the 2008 promotional photo shoot used in the above montage –  has just made a rather strange radio programme called Miles Jupp Is Insufficiently Belgian with his frequent collaborator David Stenhouse. You may listen to it here. Or you could take a quiz to find out whether you are Belgian or not by clicking here.
—–
Miles – who now resembles the man in this rather more contemporary photo montage – was recently in a new BBC Radio 4 series called Boswell's Lives in which he plays a time travelling version of the biographer James Boswell. The series is written by Jon Canter, produced by Sally Avens and also features Alastair McGowan, Harry Enfield, Arabella Weir and Henry Goodman. Two episodes can still be found here.
—–
Miles has recently filmed a performance of last year's stand-up tour Miles Jupp Is The Chap You're Thinking Of at the beautiful Theatre Royal, Margate. The DVD and download will be available from for the Go Faster Stripe label.
—–
A fourth series of In And Out Of The Kitchen has been commissioned by BBC Radio 4, but is unlikely to be recorded before the middle of 2015.
The first three series have been released on CD. You can buy them here.
—–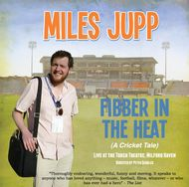 The DVD and the CD of the live show of Fibber In The Heat – Miles' tale about idiotically blagging his way into the press corp during an England cricket tour of India – have now been released by Go Faster Stripe. The show was originally performed at the Edinburgh Fringe Festival in 2010 where it received over 20 four star reviews, and Miles subsequently performed the show on two tours of the UK. You can buy it here.
Miles' book about the trip was shortlisted for both The William Hill Sports Book Of The Year and the MCC and Cricket Society Book Of The Year in 2012 and a second edition has now been released. You could buy that here. If you would like to.
—–
Miles filmed parts in 3 different films last July. So that's good. But he also has parts in a few upcoming movies that he filmed in 2013: Jon Stewart's directorial debut Rosewater (click here to see a Jupp-free trailer) and  The Last Sparks Of Sundown. Owing to some sort of oversight, Miles does feature in its trailer. Which is here. The film has just won both Best Director and Best feature at The Chicago Comedy Film Festival. (It's real. It's got a website)
—–
Lots of stuff Miles has done on BBC Radio 4 over the last few years is available to download (admittedly for a fee) from this place; episodes of The News Quiz, Just A Minute, I'm Sorry I Haven't A Clue and the like.